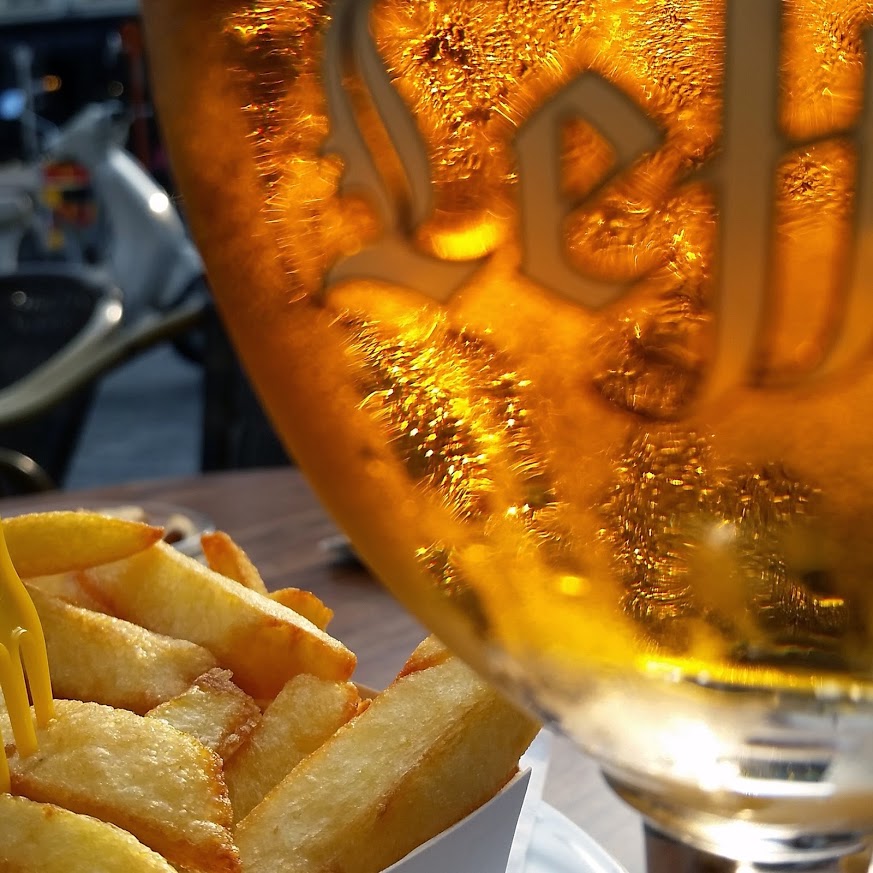 A train from Paris to Brussels, one from Brussels to Bruges, and a hop to a quaint hotel where this city reveals itself beautifully by bumpy bus window. We're eager to unfold onto the fairy tale streets, take advantage of this unseasonable weather – and I need some Belgian beer and fries STAT!
To be honest, I'm not a beer drinker, but when in Belgium, it just seems like the right thing to do. After some Leffe and a Duvel, I settle on Boon Kriek (cherry beer) and we become fast friends. OK, so, it's mildly sweet, sure, but admittedly, so are you. Sometimes. Well, that one time.
Kim and I clink glasses. We're digging into hot Belgian fries with mayonnaise and ketchup. A little beer-buzzed in the fading daylight. The sax solo from "Baker's Street" starts blasting from the store nearby. Life is good.
"This feels like vacation," she says. "Paris was a lot of running from thing to thing,"
"Yeah, here there's not as many things to run between."
Kim and I were so chill we even took a touristy boat ride along the canal in spite of our innate aversion to humans. I wouldn't miss seeing it by boat, but it's also a great walking city with picturesque canals and medieval architecture everywhere you turn. And just the right amount of beautiful old churches to walk through quietly making dirty jokes to your girlfriend. Not to imply there aren't modern European shops in the mix, there are plenty not far from The Markt, like the forward-thinking chocolatiers at The Chocolate Line, where we indulged in flavors like cola, chili, and wasabi. Mmmmm.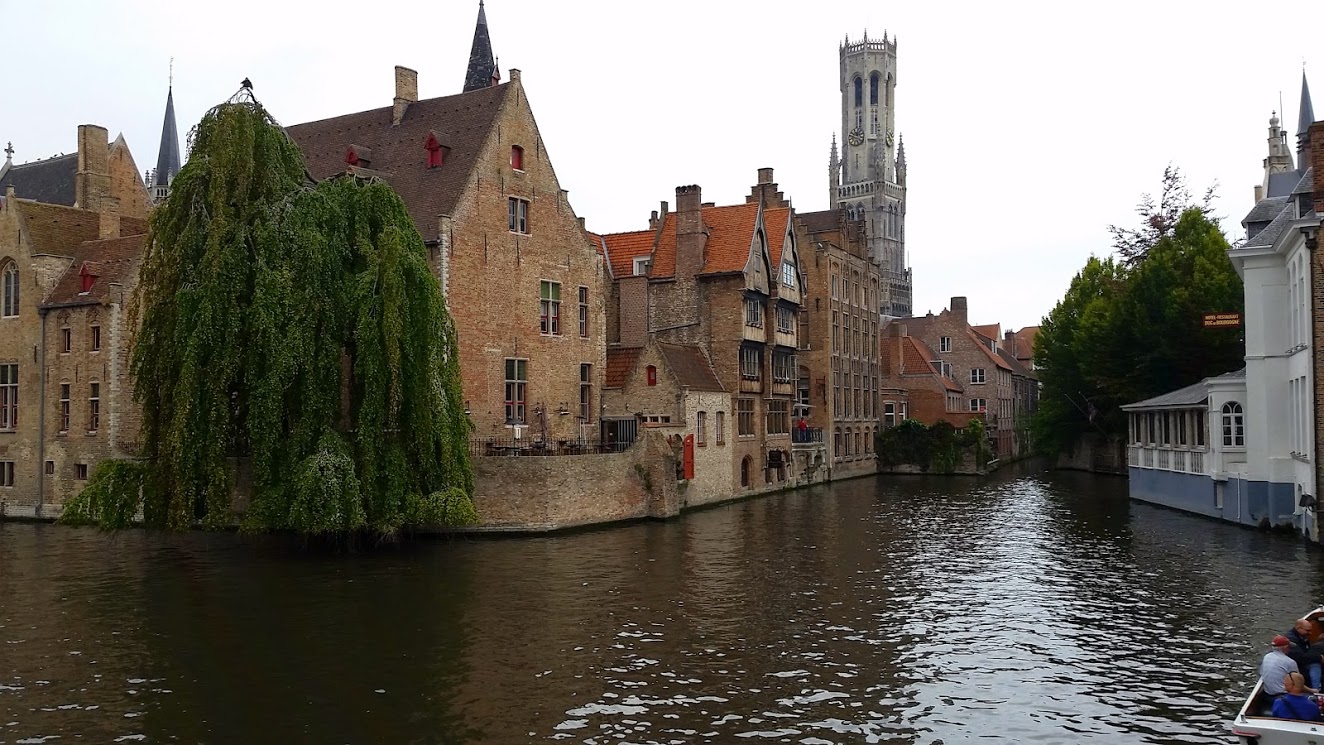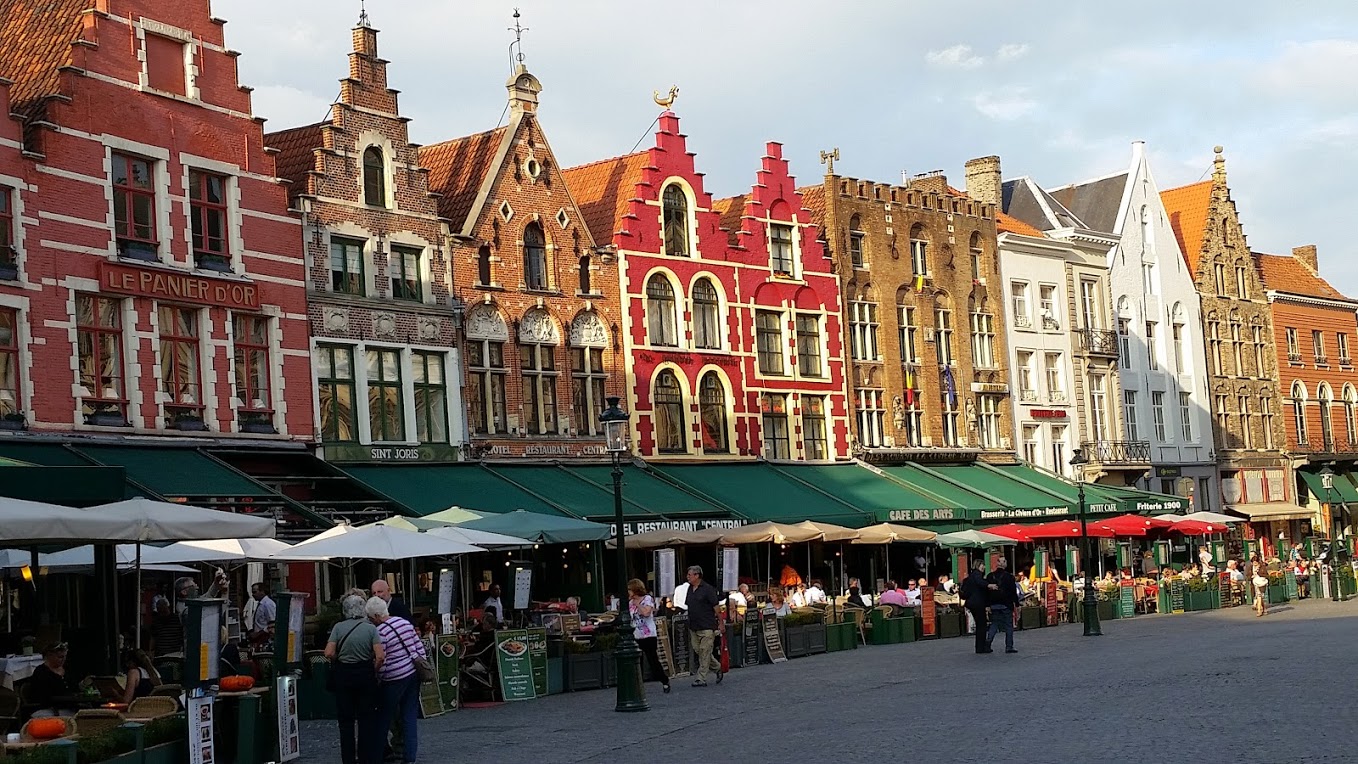 We got a reservation at Bierbrasserie Cambrinus for dinner in a super quaint part of town. Busy place. The bar can get a little rowdy. Hell, we all drunk up in here. The girl at the table next to us can hardly contain her… cómo se dice…en inglés? Breasts! She's all over her table-mate like Euro on trash. It's entertaining to watch, but these potato croquettes aren't gonna eat themselves. After a coupla' more Boon Krieks and a competent steak, we close with their crème brûlée, which was caramelized crispy goodness by the cracking spoonful.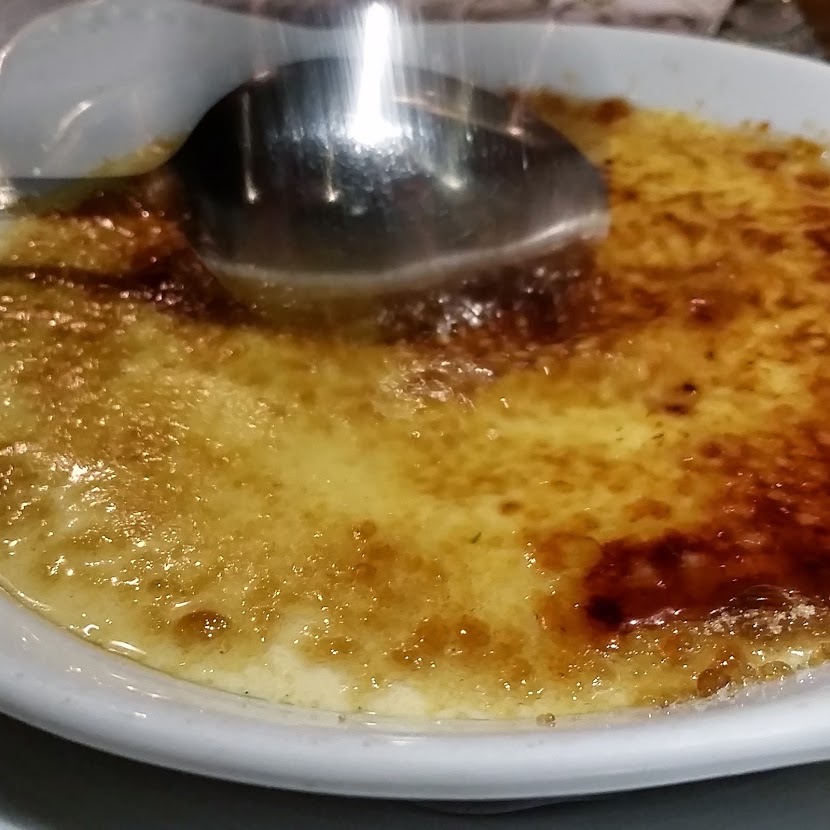 In a perfect world, I would start everyday at the Tearoom Carpe diem with coffee, fresh squeezed orange juice, breads from their bakery, and a superb omelette served in the pan. Decadent, I know. Kim was jonsin' for a Belgian waffle, and while it was too early for those, they kindly obliged.
"Too early?" she whispers to me.
"Yeah, they don't really have them for breakfast, I guess. Just the rest of the day."
The waitress placed before us the perfect Belgian waffle. There's a picture of it somewhere below. Nice, right? That shit could be on the cover of a magazine. Light and crispy and not at all spongy like their American counterparts.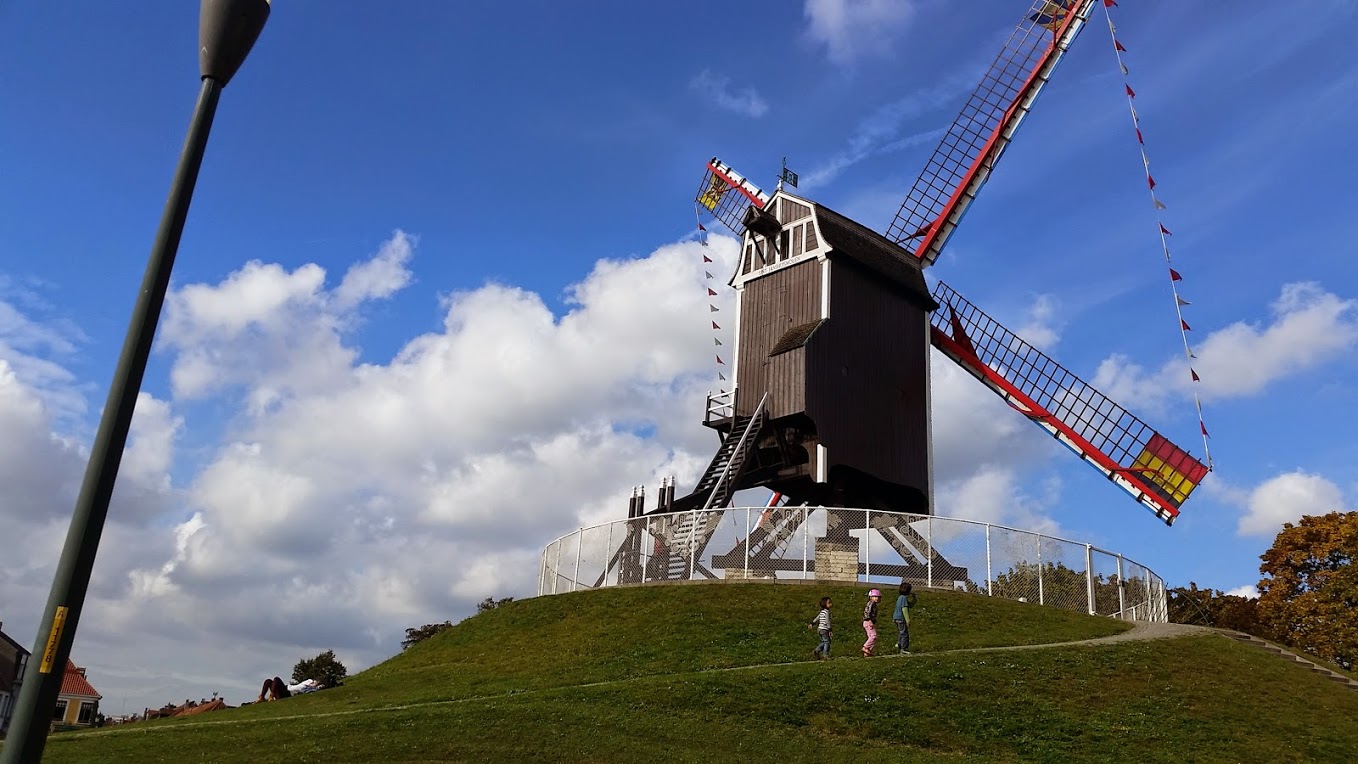 Before our flight, and resisting the urge to nap, we took a long walk off the beaten path to visit the windmills Bonne Chiere and Sint-Janhuismolen on a spectacularly blue-skied day, wondering if we'll ever find ourselves in this magical place again.
Next stop; Amsterdam.