I meet Tom at one of our favorite spots for catching-up, the bar alongside Delmonico's.
"We've been coming here for years," he says. "What is this place even called?"
"I think it's officially Next Door Grill."
"Yeah, we usually just say Delmonico's."
I've only had good experiences here, and I tend to use it as a place to catch-up with folks. I come early, get situated, order a drink, scan my cell for the what-gives, manage the expectations of our Waiter ("drinking with an option to eat"), and judge the Bartender's playlist – not too harshly – until my party arrives.
Is it the hippest spot this side of Hipsterville? No. Go hang out there. I'll be at Delmonico's Next Door Grill with the heavy-set desk-jockeys, enjoying perfectly executed Dirty Martinis the way I like them; vodka, rocks, olives, in a rocks glass. Not technically a Martini, I know, purists. Thanks for pointing that out. This one is perfectly concocted, nice and cold, and brought to me by a Waiter who wouldn't look out of place in Downton Abbey. I mean that in the best way. The staff really have your back here.
"Let's exercise our food option?" I say, opening the menu.
"The calamari?" Tom suggests.
"That's always good here."
"Last time we split Steak Au Poivre."
"And then there's the Benedict, of course."
"Let's do the Benedict again," Tom insists, breaking my arm.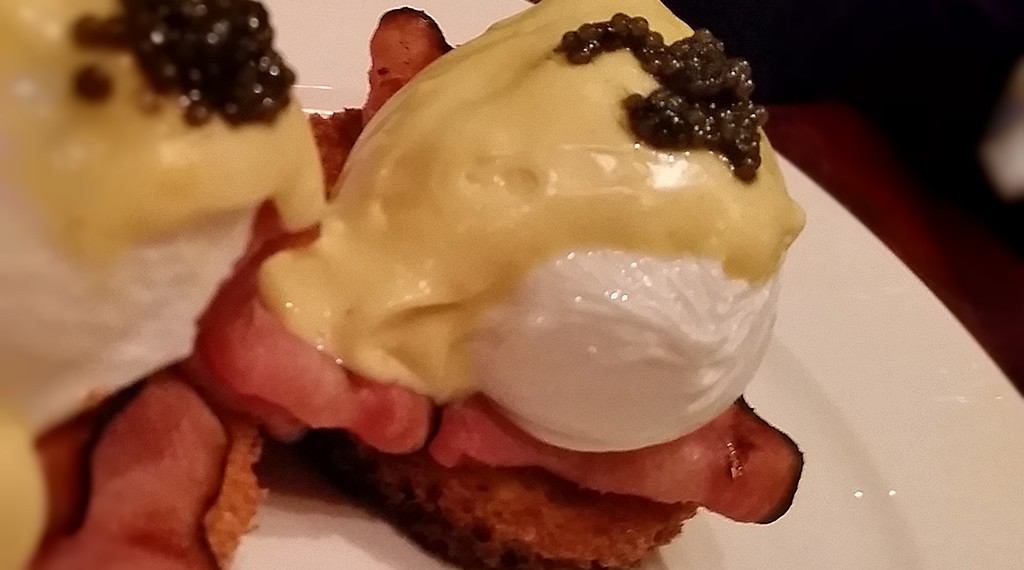 "This is the birthplace of Benedict," I remind him.
"You say that every time."
"But there's been more than one Delmonico's, so I don't know who did what where first."
"This is delicious. Just the right amount of hollandaise." 
"They don't always do caviar on the Benedict, right? You can have my caviar, Tom."
"You don't like caviar?"
"Nah, I can't get into it. Maybe one day."
Downton Abbey schedules checkups at a tasteful pace, making sure we're happy and hydrated.
"We'll do two more Martinis – both rocks – and we're gonna split a cheeseburger medium."
"Throw some bacon on there, too?" Tom half asks.
"Bacon, of course," Downton responds, and quickly makes it so.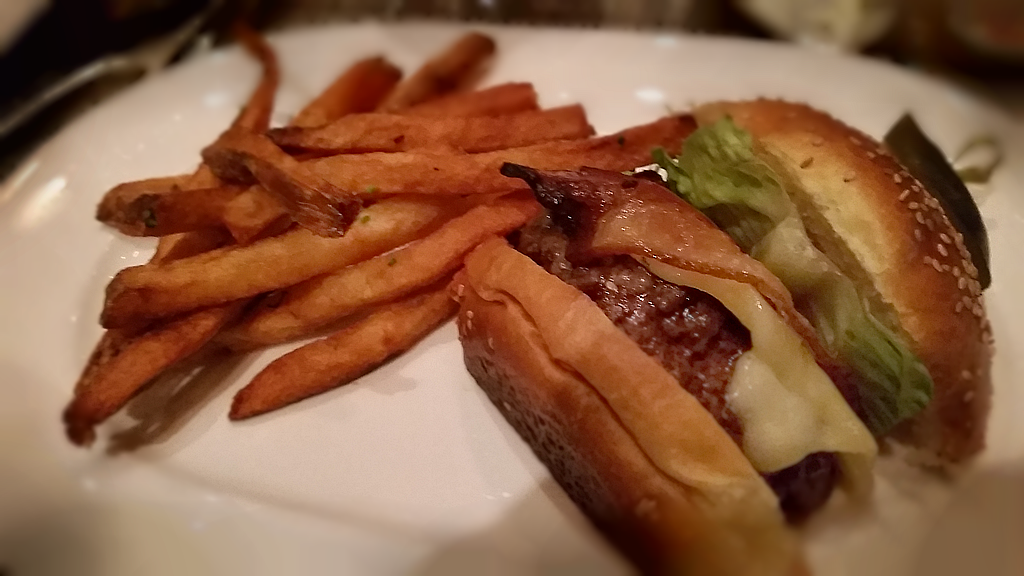 "I love how they split it on two plates. And we both get our own toothpick and pickle and perfectly seasoned crispy french fries."
"And who doesn't love a potato bun?"
"It's the simple things."
Tom and I spend a few moments judging the clientele, but soon realize we basically fit right in.
"Also, we should get dessert."
"We should," Tom agrees.
"What say you to Baked Alaska?"
And here she comes – casually sophisticated, curvy browned meringue, silky ice-cream, and a trail of apricot marmalade. The perfect finish by a kitchen that aims to please.