Editors Note: This article was written before the Charlie Hebdo shooting.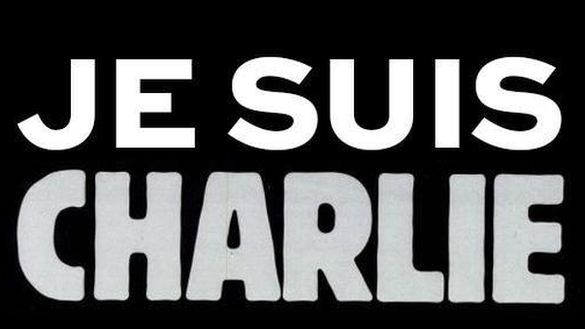 ——
I avoided news about terrorism or ebola on vacation. I work hard, I can choose to flick off when I want. It'll be there when I get back. Besides, I had no time to decompress from work-mode, riding my Blackberry right up until they closed the plane doors behind me  – yet we get our luggage in the overhead before most of these zombies can even find their seats.
"Ugh, these are not the people I want to die with" is maybe a joke you shouldn't make on a plane to your girlfriend, unless yours is mine. In which case, we've got different problems.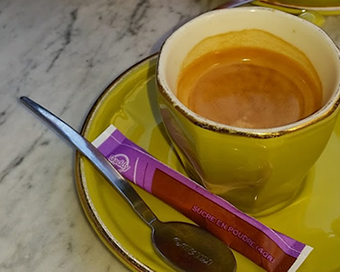 Our road-map is a Google Map populated with points of interest culled via late night Yelp jams and Rick Steves fever dreams. If it pleases the gods of T-Mobile, we may be rewarded with directions on-foot and in-metro in all three locales (3 days Paris, 2 Bruges, 3 Amsterdam). That's a lot of meals, museums, canals, cathedrals, street markets, galleries, coffee shops, parks, and train stations to lose track of.
From Charles de Gaulle to the right bank of the Seine, up a tiny elevator cut into the center of an old staircase, into a rented flat in the 3rd arrondissement. Taking control like a boss, I nap a half hour while my girl grabs necessities from the Monoprix; coffee, butter, Nutella, baget, figs, Orangina.
Pretty soon we're out and about. The line too long for crepes at BREIZH Café, we grab an emergency coffee at La Perle in the Marais. Then off to Pompidou, a short walk, yet somehow affording another cup of coffee overlooking their ginormous lobby. Say what you will of contemporary art; I'm happier disliking art at Pompidou than loving it at the Louvre – if that makes sense. And the views from the external elevators are pretty cool.
It's apparently bring-your-kids-to-Pompidou-day with whole lobes of lobby cordoned into artsy french children and their parents, flanked by video walls of current – ahem- exhibitions.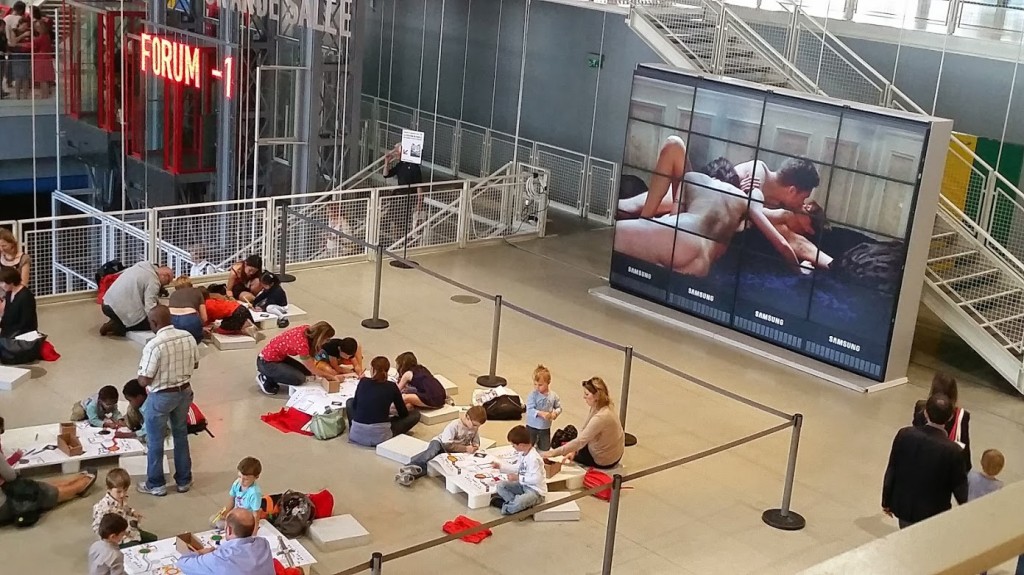 "Whats the derogatory term for French people?"
"Frogs?"
"Why Frogs? Is that even insulting?"
Hours later we push through the vinyl pig at the left of the Le Comptoir into L'Avant Comptoir, a standing-room only wine and small plates offshoot. My girl and I would prefer vodka or whiskey, but whatevs. Picking from a menu of flags hung from the ceiling,  we shouted our order to the bartender – like the rest of the tightly packed crowd.
"This lady is leaning into me," my girl says.
"Don't take it personally. The woman behind me is using my back-fat as a pillow."
"Fucking Frogs."
So, this place is hard to beat. Five euros for a tasty plate of seared foie? Seven fifty for skewers of foie and red pepper? Oui, Monsieur! And the tuna tartare (not pretty) was light and tasty, too. The egg with mushrooms was the probably the hit of the night, but it's easy to impress an egg slut.
There was at least one thing I ordered that never made its way to me, as well as a glass of wine. So two things. No joke that Parisians don't work for tips. Or maybe their work/life balance happens in the same moment.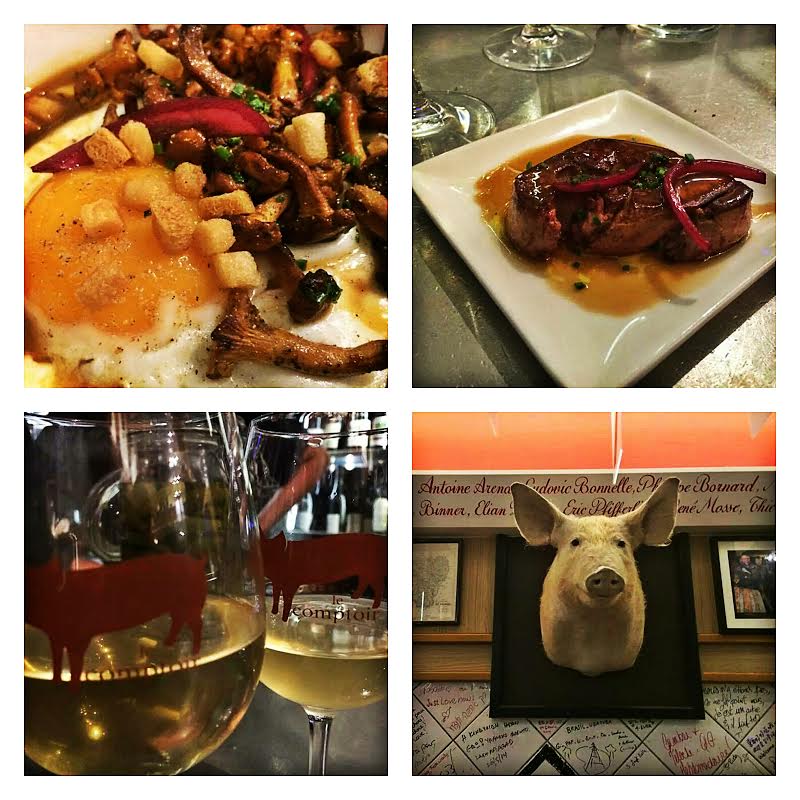 Granted, I don't think they know how to support the influx of monied Chinese, exactly. I hear they're starting to lose some of those tourists. Might explain why an SUV of Chinese travelers got frantically served before my girl and I at Comptoir de la Gastronomie – even though we ordered first.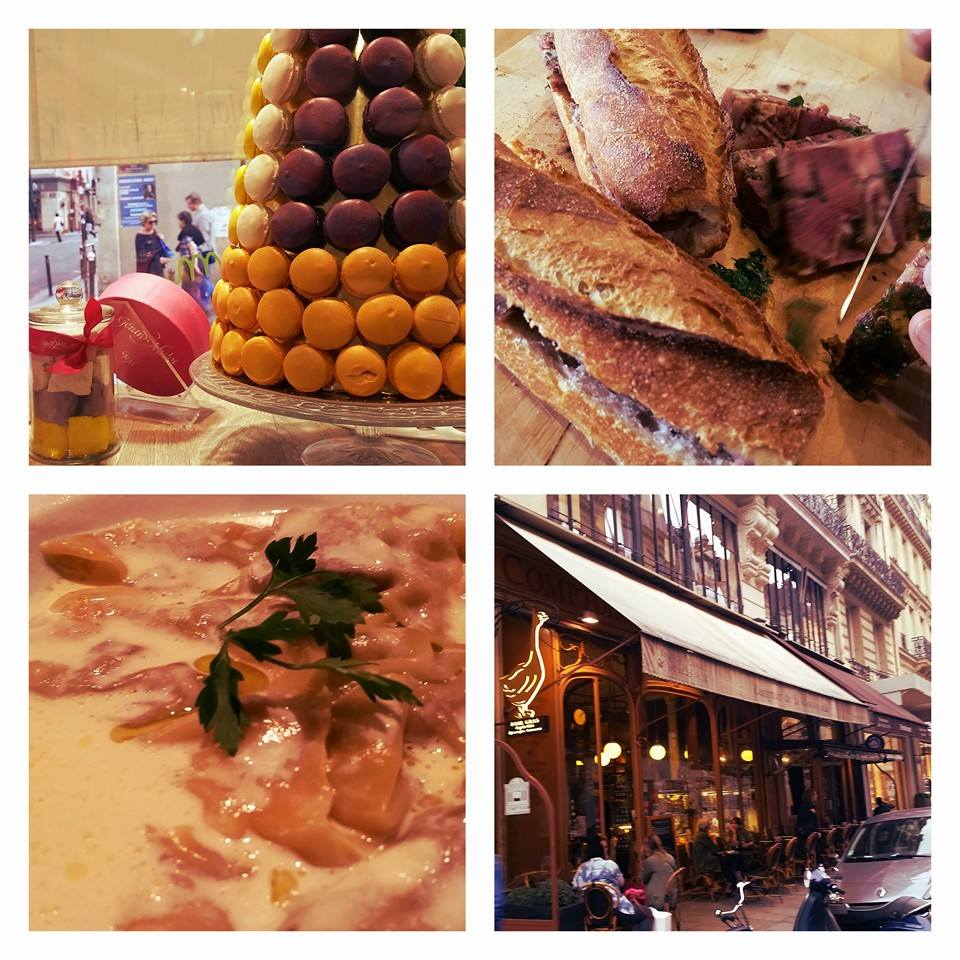 Apart from a helluva onion soup, we were a tad underwhelmed with the other plates – yet still grabbed a hunk of excellent pate de tete from their shop on the way out, which made its way into a few decadent picnic sandwiches and during strolls along the Coulée Verte – where you can refill your water bottle in the park with sparkling water. I should know, mine exploded while walking down the street about ten minutes afterwards. Sounded like a gunshot.
Coulée Verte is a predecessor to Manhattan's High Line, kinda, but more chill. It's important to find those pockets in Paris where you can be quiet. We walked serenely through Bois de Boulogne for at least an hour till we found the new Frank Gehry building (Foundation Louis Vuitton). It wasn't open yet, but we took some pics and basked in all that architectural nowness.
But we've got a train to catch, and adventures in Bruges and Amsterdam to look forward to. Still, it's never easy leaving Paris. I'll be dreaming about the sour dough from Poilâne and Pierre Herme's macarons long into the winter.