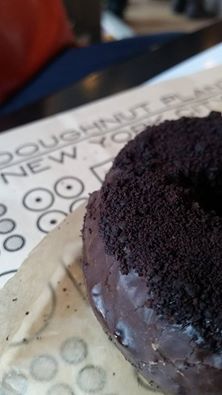 I trek to Prospect Heights to buy sneakers for the gym I may never join. On the way, I pick up the Blackout from Doughnut Plant, which is their chocolate glazed cake-doughnut with chocolate pudding inside and cake crumbs on top. I dug their Grand Street shop and look forward to getting familiar with this one. Off to a good start – nom nom nom.
Alright, I'm fueled and ready for the DSW. Kim and I peruse the aisles for sneakers that don't look covered in alien ectoplasm. I don't know who's buying all these fluorescent green and yellow kicks, but stop it. I finally find an unassuming pair of black Nike's and we bounce. I bought sneakers so now I have to join the gym, right? This week, definitely.
There's a few open spots at Morgan's Brooklyn Barbecue. We belly-up to the bar, as we like to do, and soon we're surrounded by ginger ale, draught beer, and the Frito Pie.
"Oh, this is the place on that show," I realize out loud.
"Ah'doyyy," Kim advises.
The Frito Pie, served in an open faced wrapper, is a chili, cheese, onion, sour cream, and crunchy Fritos dish that Kim and I devoured like God had a gun to our heads. Perfect bar food.
If a'sida beef is your thing, their brisket is especially tender, sufficiently fatty, and has a nice char. Especially good with the Corn in a Cup. The corn is honest and tasty, nicely cooked with a little cotijo cheese and salsa verde. Even had a slight kick, as everything kinda does around here. That annoying friend of yours that thinks everything is spicy may not dig this place, but you shouldn't hang with him anyway. It's better for you both.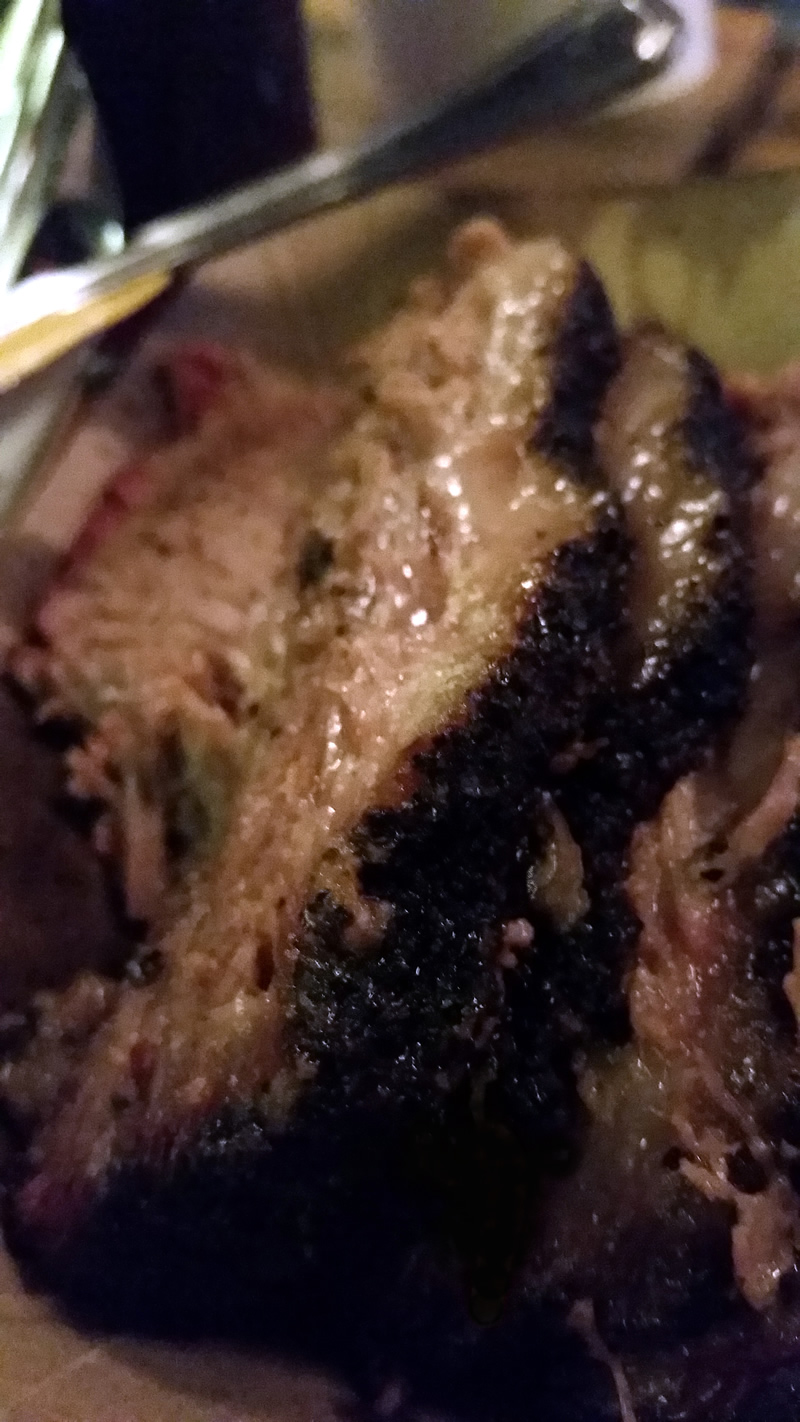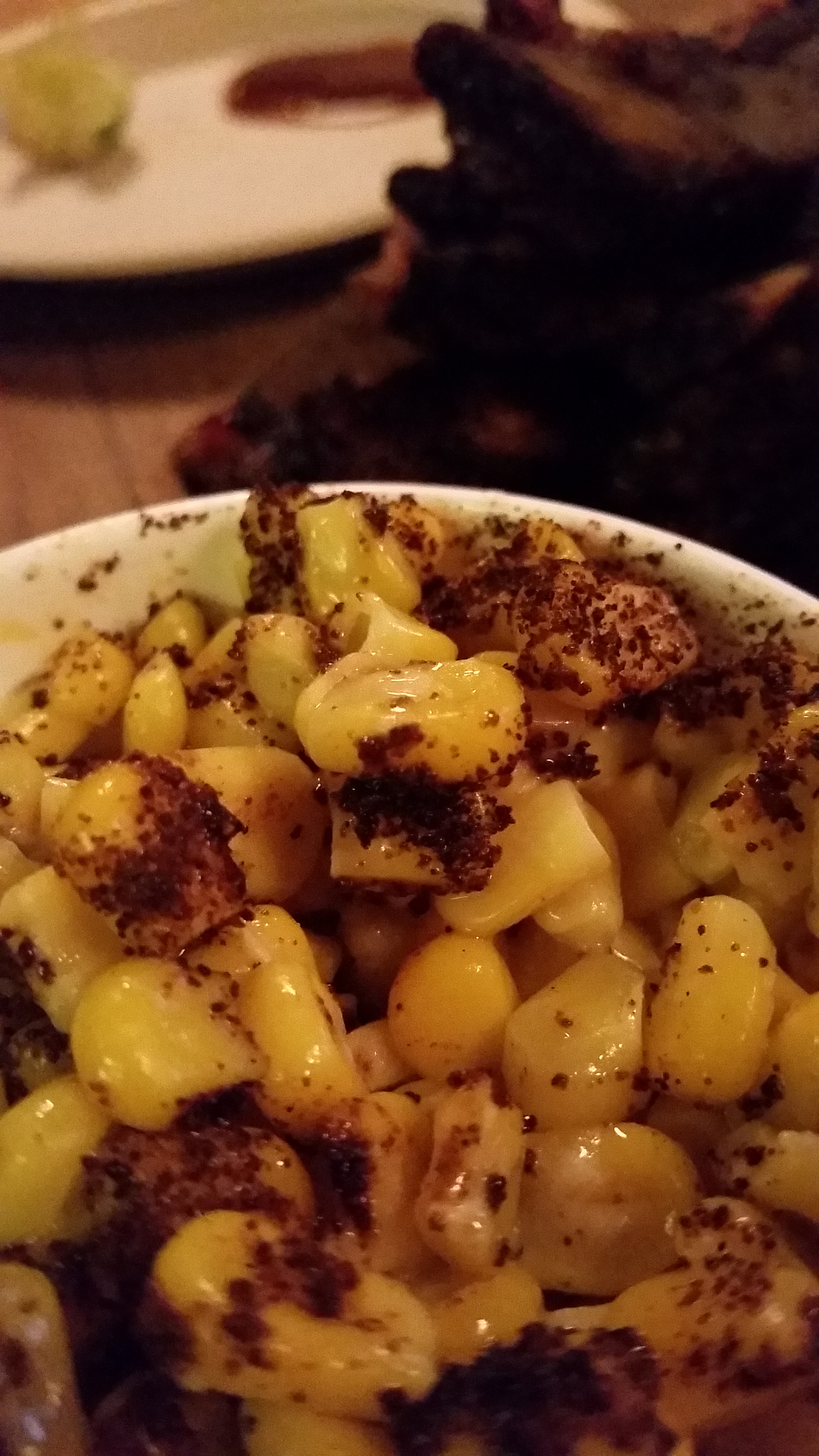 I hate when people say this and I'm about to myself: The ribs really did fall right off the bone. I think there's something about that phrase that makes me think of biology, which I try avoid while eating. Denial is delicious, I know. Be that as it may, the ribs were super-tender and, once again, excellent bar food. There's lots of other options on the main menu we've yet to try from chicken, fish, and sausages, to turkey tails.
While most of Brooklyn's bustling BBQ scene has some mac-n-cheese on the menu (Fletcher's, Dinosaur, etc.), Morgan's Elbow Room menu is devoted to various mac-n-cheeses from Old School with cheddar and garlic breadcrumbs to Jamaican Jerk with chicken, grilled pineapple, and toasted coconut.
My suggestion is to check out Morgan's with a bunch of your less inhibited friends that know how to drink, aren't afraid to speak to each other, and respect the simple treasures of barbecue. And join a gym, if you haven't already. Or at least buy some sneakers.