Leah Cohen's Clinton Street restaurant Pig & Khao has been calling my name since Colameco's piece on the former Top Chef contestant last year, but they've been open since 2012. After three failed attempts to get in, I decided to make a reservation like an adult.
Our waitress says that for two people we should order three to four small plates. We order three plus the Chicharron to start – homemade fried pork rinds. Kim has an FTP, which is rum, cognac, peach, and cinnamon bark. Sweeter than she'd like. I tossed back four Perfect Storms (ginger, sherry, lemon, rum) like they were happy juice.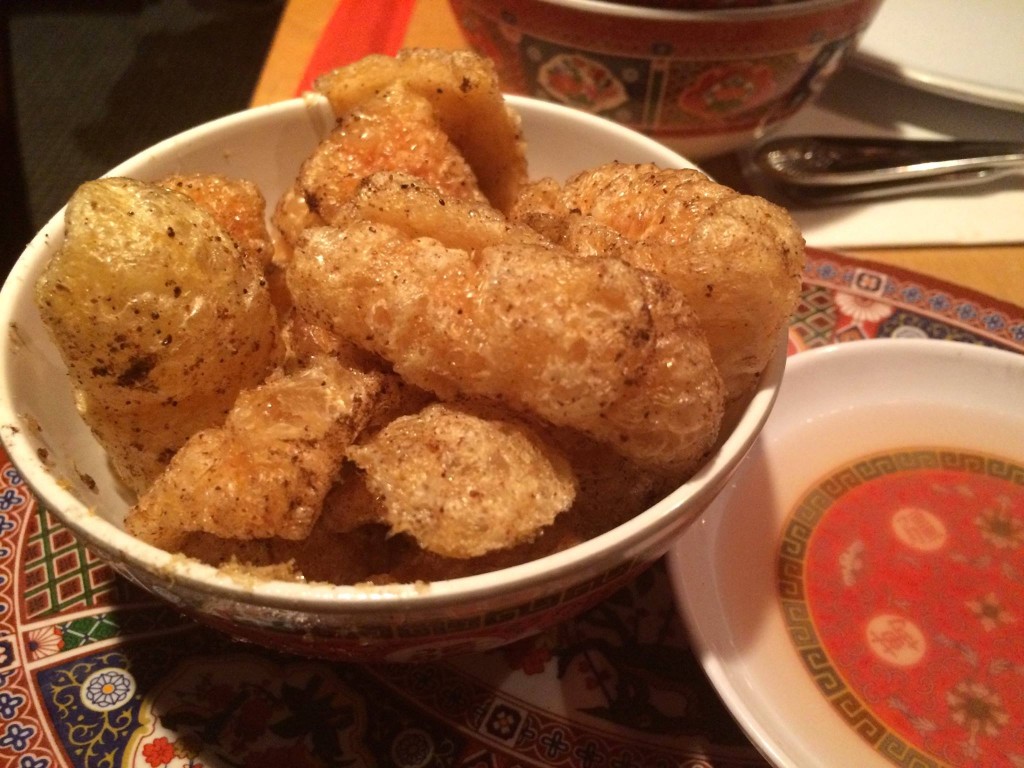 I'd skip the chicharrons next time as they're a bit one note – and the coconut vinegar was so mild it really only got them wet. They look nice, though.
Then the evening special blew our minds. Crispy pork belly on pumpkin puree and bok choy with nuts and fried onions. Kim and I looked at each other like we've done only a handful of times – registering extreme delight with barely a raised eyebrow – silently acknowledging that we just ate something special. Crispy and smooth, sweet and unctuous.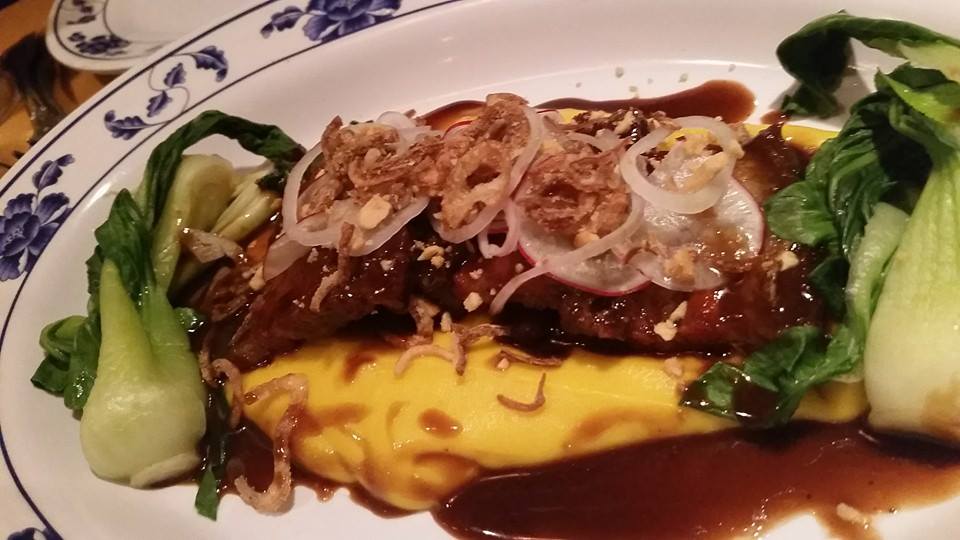 I had an awesome pork belly experience with friends a week ago and didn't expect another so quickly. The gods of ham throw bacon in my path. Next up, the Sizzling Ssig; An egg cracked on a hotplate of chopped pork head. Stir the egg in and SHAZAM! So very tasty, especially for Kim who identified the anatomy as she ate it.
"This is an ear. My mom used to make this."
"Your mom made ears?"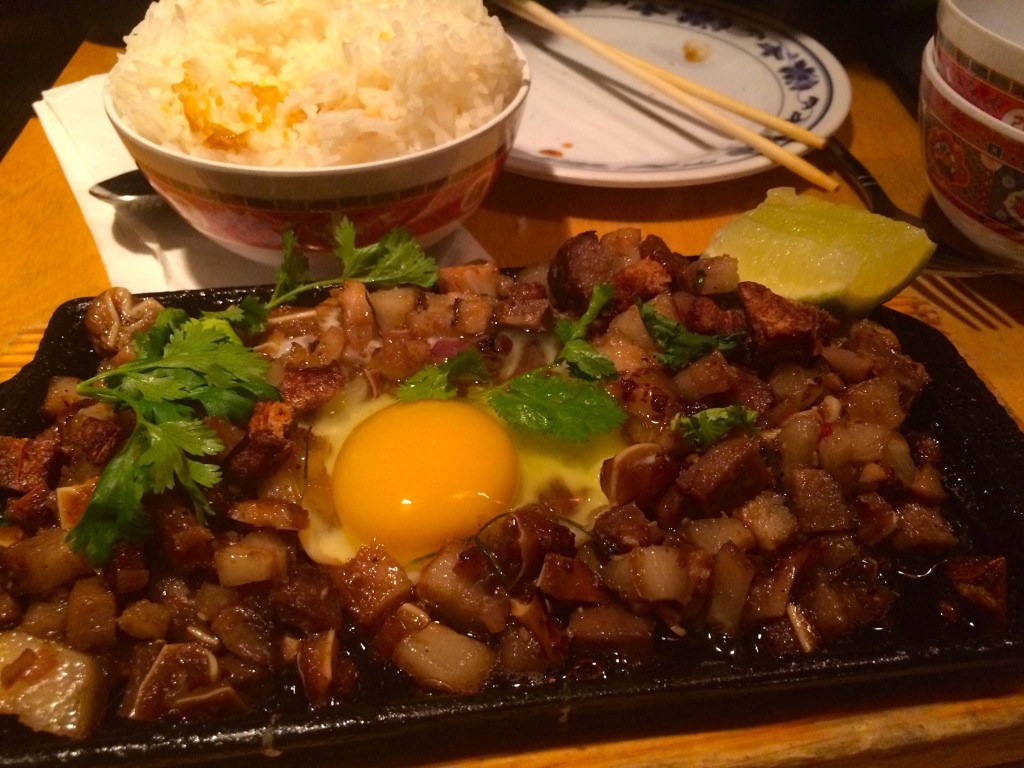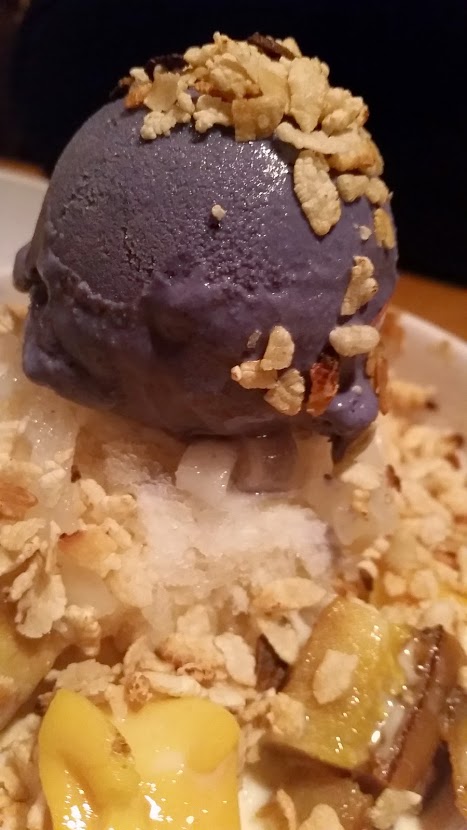 Not a morsel remained and it paired perfectly with their amazing coconut rice. That rice borders on dessert and I will slay any man that gets between us. Although even it could not contain the heat of the next dish.
"Wait, we have another dish coming?" I ask Kim.
"Wait, we have another dish coming?" the guy at the next table asks his girl.
Seems both tables were talked into three dishes, but do yourself a favor and stop at two and a dessert. It's a lot of food, especially with that delicious coconut rice. Unless you're in a group, I mean. Or you could just do whatever you want.
The Khao Soi (red curry, coconut milk, chicken, egg noodles, pickled mustard greens, shallots) was so spicy it should be mentioned when you order it. Help me help myself, Pig & Khao. We had to give up and get it to go. I just tried it again after a day in the fridge. Whoowweeeee that's a spicy Khao Soi!
Hence the Halo Halo was a no-brainer. A traditional Filipino shaved ice dessert I've only had once before at Talde where Dale puts Cap'n Crunch in it. Known for being a concoction, at Pig & Khao there's some tasty purple ube ice cream and the occasional leche flan your spoon discovers happily, all melting into a soup with macapuno coconut and pinipig, (toasted glutenous rice).
We rolled ourselves onto Clinton Street and walked by the now closed WD-50 with a liquid nitrogen tear running down our cheeks. Somehow we made it to the F train on Delancey before collapsing into heaps back in Brooklyn – where Leah Cohen plans to take more of my money.
"Next time I'm getting the tasting menu," I thought to myself, before slipping into porky unconsciousness.