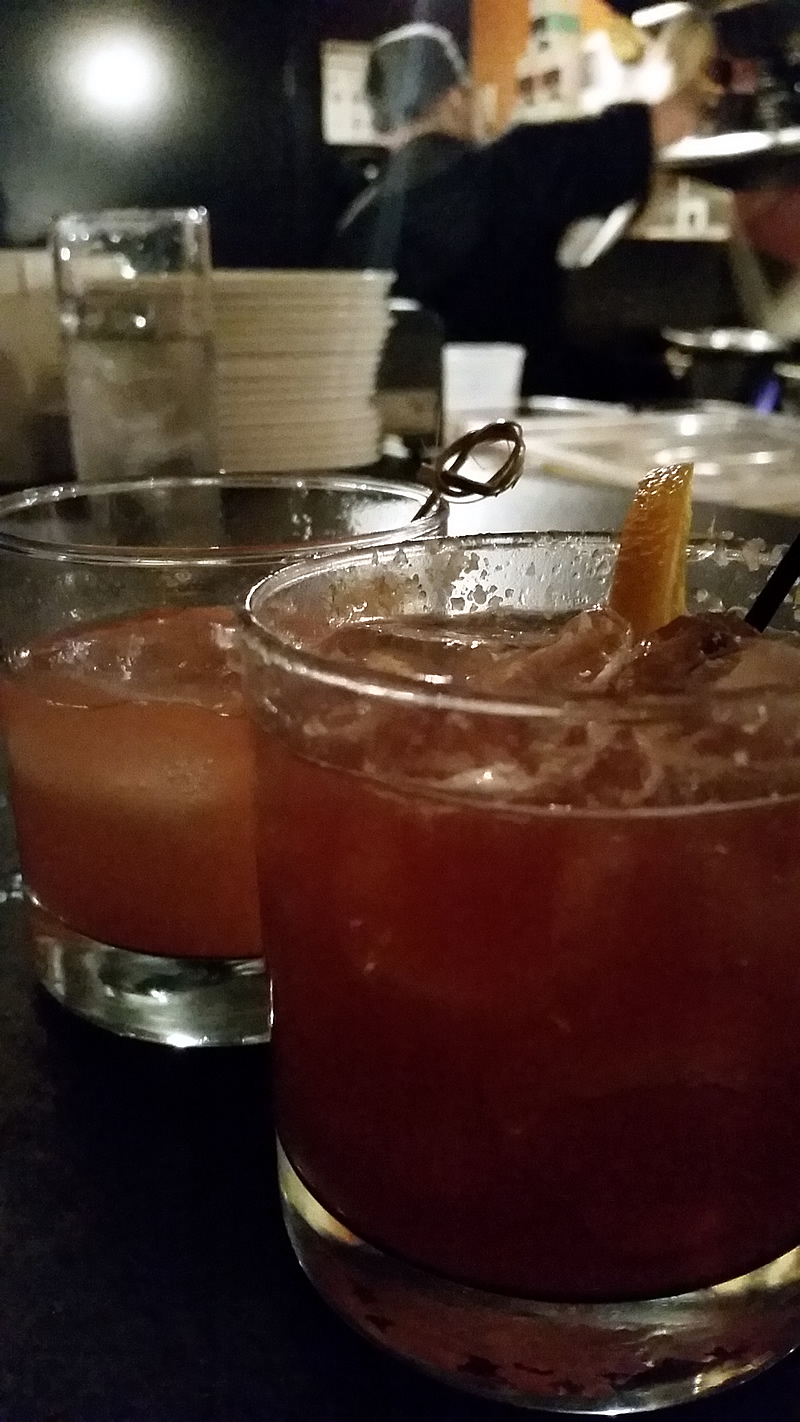 Traif's been a favorite of mine since it opened in 2010. Actually, I pretend I'm an early adopter, but I didn't step foot inside until 2011. This much is true; I know I can rely on Traif for thoughtful cocktails and consistent forkfuls of what the hell was that!?! All the family and friends I've dragged here have stumbled out satisfactorily Traifed, I assure you.
"That's what we call it," Kim says, "even if we eat something delicious somewhere else."
"Like, we got Traifed by the polenta at Home Plate in San Francisco."
"Or when we got Traifed at Pig & Khao by that crispy sweet pork belly."
Small plates and amazing drinks are one of my favorite combinations, and Traif always brings me to that happy place. This New Years, Kim and I are at the counter again, like last year, two food nerds who can't wait to be entertained by expedition and execution.
I admit part of me wondered what might be happening a few doors down at sister spot Xixa. They also had a tasting menu tonight – and apparently Jason Marcus' attention during my seating at Traif. Can't these two open a place in Park Slope already?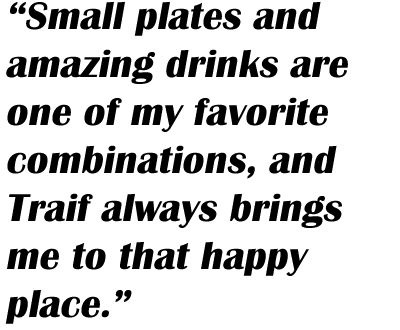 I've had nights at Traif where literally every plate made you gasp. Heat and flavor and texture and execution all lined up perfectly. Ending the whole shabang with bacon doughnuts and coffee ice-cream or their sumptuous chocolate pot de cremes.
This New Years experience was a little different. For one thing (not to complain) we were seated forty minutes after arriving on time. They were seemingly in recovery mode when we got there – mentioning the kitchen had fallen behind. Someone suggested that mixing Traif classics with new experiments messed with their timing. Who knows. It's likely some reservations started and ran late which totally throws off the plan. Guests are reminded about start and end times on the phone, in email, in a phone call the day before, and in person. That's how they manage the night. At some point it becomes herding cats because, in all fairness, why would anybody want to leave this place?
Regardless, I started having fun the moment I got there and especially while summoning a steady stream of Rude Little Pigs to do my bidding. Lapsang-infused tequila, Cointreau orange liqueur, pomegranate, bacon rim. Sounds like a novelty. It ain't.  
A shot-glass of creamy Vidalia onion soup to start was delectable, followed by strawberry-cinnamon ribs which seemed early considering Traif's usual light-to-heavy pacing.  Don't get me wrong, I can eat those ribs until I flat-line. The blue cheese and persimmons in the salad that followed were tasty, just off schedule.
One thing my Italian family has never been able to instill in me is a love of mussels. Not my thing.  But I was Traifed for sure, soaking up mussels and that buttery sauce with thick cuts of brioche. So unlike me. I wonder if I'll like that anywhere else.
Now it's midnight, my girl and I are a little buzzed when suddenly air horns and loud pops send confetti twinkling beautifully into the air and ultimately into all of our drinks. Mmmm, now we're having some beef sliders. The peekytoe crab on top might be superfluous, but those sweet potato fries and smoked paprika aioli are a killer combo as usual.
So many different plates are coming out of this tiny kitchen. From our vantage point we saw a lot of unfamiliar dishes we were dying to try.
"That's bone marrow," I say to Kim, with the enthusiasm of someone that just saw Elvis at the deli.
"Just take it from that guy," she suggests. "He doesn't deserve it."
"The one over-emoting to Always Something There to Remind Me?" I ask, sipping around the confetti in my Rude Little Pig.
"His eyes are closed and everything," the Chef interjects. "He's really feelin' it."
Whereas my eyes are peeled for the baked muenster, smoked chorizo, apples, and crostini dish I love so much. Alas, no dice. Oh, but very happy to see you again, foie with egg, maple, potatoes and hot sauce – come sit on my lap.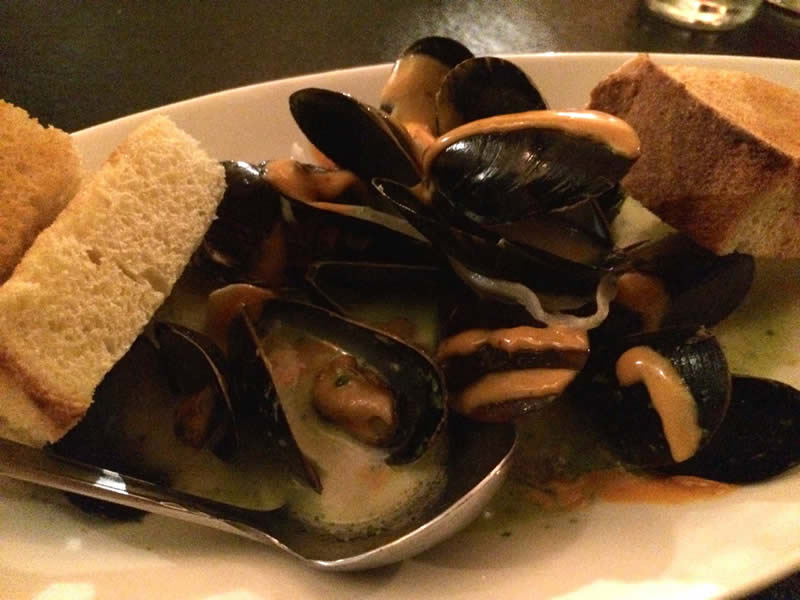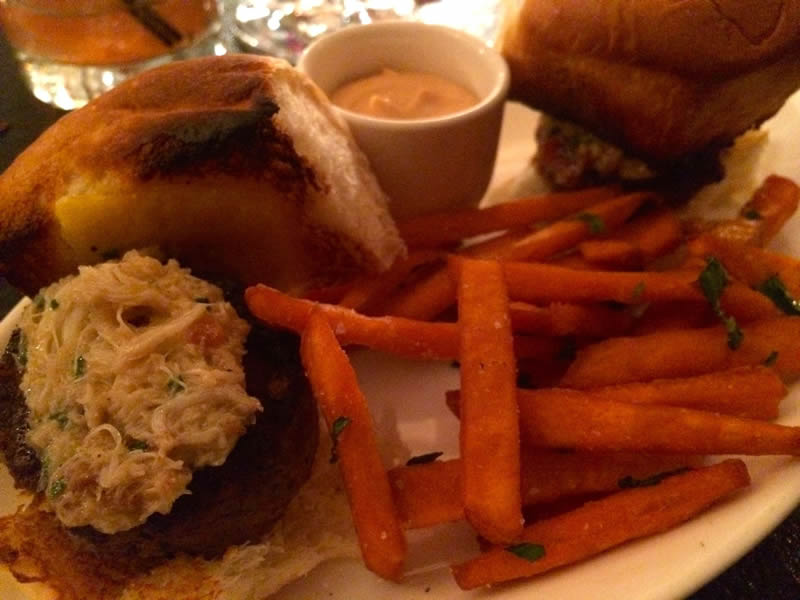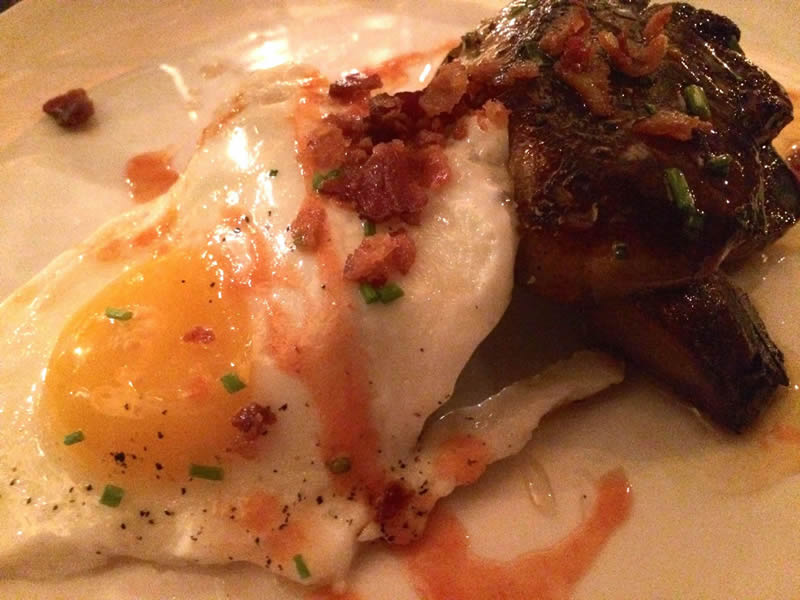 While the flavors were good, the pork belly suffered from lack of competing textures. And is that the same crab that topped the sliders? Not a particularly contrasting lead-in for the more purposefully soft final savory course of short ribs on polenta. Tasty, and one of the bigger small-plates for sure. Might be a bit heavy for some, but those people don't know.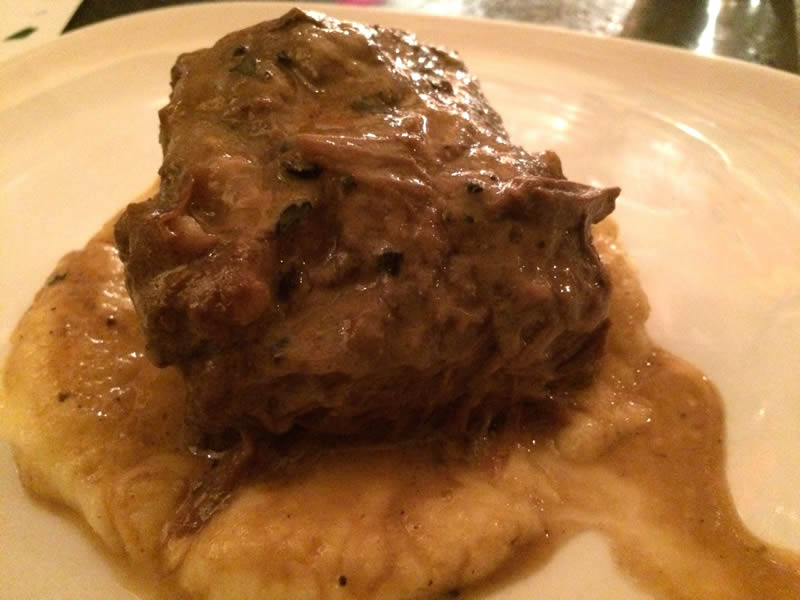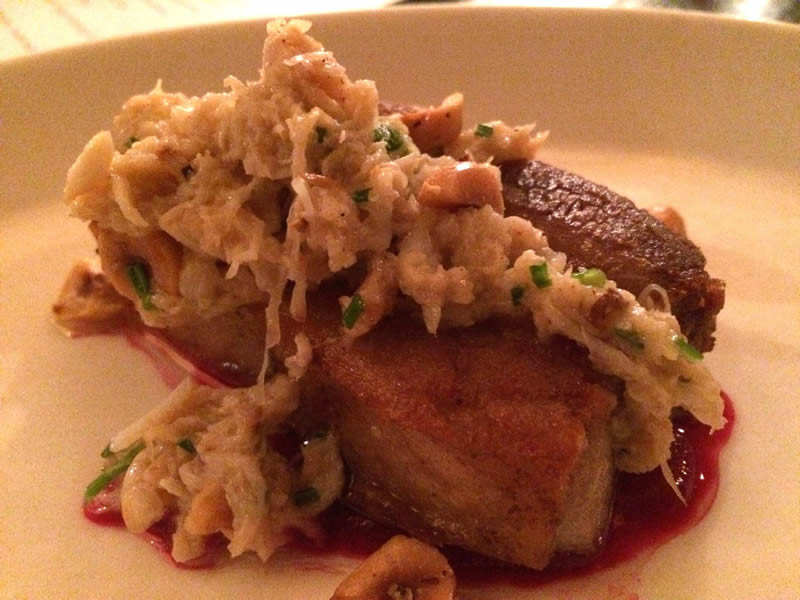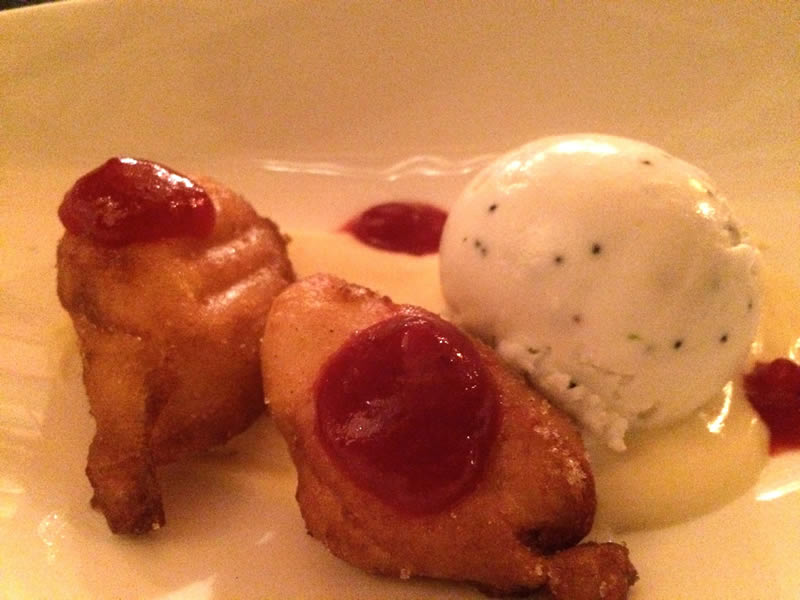 In the past, I've had desserts at Traif that blew my mind. Sometimes I fantasize about coming here alone just to have secret dessert. Our meal tonight ends simply with some zeppoles and poppy-seed vanilla ice-cream. Good, sure, but not a closer – especially once you've experienced the other tricks up their sleeve.
Traif remains one of the best things you can do with your clothes on. I know I'm not special for feeling that way, it's the most Yelped restaurant in Brooklyn these days.
If pork and shellfish make it through your dietary force-field, make a reservation and get there on time.